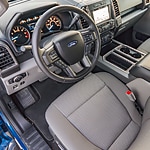 The 2020 Ford F-150 has set a new precedent for pickup trucks. This popular pickup has it all from a brilliantly designed cabin to a sophisticated exterior. It's estimated that six people can sit in the cabin, and there are various trim levels to select. Check out some of the truck's tech components.
From its rain-sensing wipers to its ambient-interior lighting, this mid-size pickup has much to offer. The 2020 Ford F-150 will keep your passengers occupied via 4G LTE Wi-Fi. General web surfing, watching online videos, and visiting social media sites can all be enjoyed. This pickup also comes equipped with a 10-speaker Bang/Olufsen sound system that runs off 1,000 watts. In addition to that, consumers will have access to Android Auto as well as Apple CarPlay. The F-150 also provides voice-activated navigation.
Head over to our dealership for an up-close and personal viewing of the Ford F-150.