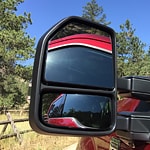 There are many reasons to consider buying a heavy-duty truck. You will find that the Ford Super Duty stands at the top of its class because of its versatility and durability. Just looking at the Super Duty will make you understand why it has become so popular among Conneaut drivers over the years. The productivity features will also help you decide if it is for you.
If you like to use your truck for your work, you will likely need storage inside the cab with you. The Super Duty has you covered with its rear seat storage feature, complete with a locking unit that is perfect for your tools.
You will also discover that it is much easier to take your trailer with you places. With the trailer reverse guidance feature available on the Super Duty, you will be able to see where the trailer needs to be. Stop by Greg Sweet Ford and take this truck for a test drive.