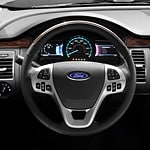 What does it take to experience optimal comfort while driving? The Ford Flex answers this question with comfort features that Conneaut, OH drivers love. Our team here at Greg Sweet Ford remains confident that you'll appreciate what it has to offer for your family's journeys.
Having a heated steering wheel can change the game when it comes to comfort. The Flex offers a heated steering wheel that keeps your hands warm while driving and makes spending time on the road a far more pleasant experience. You may not know you needed a heated steering wheel until you experience it for the first time in our Ohio winters.
Driving in cold weather doesn't have to feel daunting, especially if you drive a Ford Flex. The new Flex has heated and cooled front seats that significantly boost your comfort level. Driving a Ford SUV will make you want to spend more time on the road because it provides you with a home away from home. Call our Ford sales team today to discuss the Flex model lineup.